The homepage of the tram line No. 67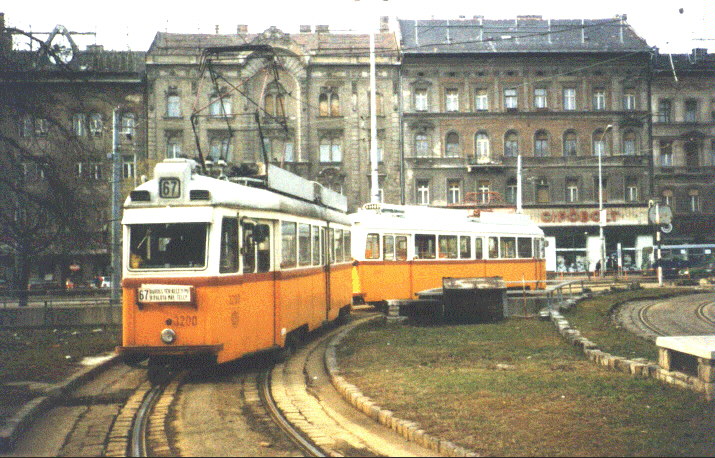 Baross tér, Keleti pu. vá.
Dózsa György út
Stefánia út
Hungária körút
Korong utca
Erzsébet királyné útja, aluljáró
Laky Adolf utca
Nagy Lajos király útja
Fürész utca
Rákospatak utca
Miskolci utca
Öv utca
Tóth István utca
Rákospalota, MÁV-telep vá.
Since 11th March 1997, there have been no trams on route 67. Instead, there is a replacement bus service route 67V. The reason for the suspension is that the tracks are in bad repair. We have an interesting report from Budapest Transport Ltd. about this subject.

Departure times of replacement bus route 67V on Weekdays:
From 'Baross tér, Keleti pu.':

4.45, 5.05, 5.25, 5.45, 6.00, 6.15, 6.30, 6.45, 7.00, 7.15, 7.30, 7.45, 8.00, 8.20, 8.40, 9.00, 9.20, 9.40, 10.00, 10.20, 10.40, 11.00, 11.20, 11.40, 12.00, 12.20, 12.40, 13.00, 13.20, 13.40, 14.00, 14.20, 14.35, 14.50, 15.05, 15.20, 15.35, 15.50, 16.05, 16.20, 16.35, 16.50, 17.05, 17.20, 17.35, 17.55, 18.15, 18.35, 18.50, 19.05, 19.20, 19.40, 20.00, 20.20, 20.40, 21.00, 21.20, 21.40, 22.00, 22.30, 23.00, 23.30

From 'Rákospalota, MÁV-telep':

4.20, 4.50, 5.15, 5.35, 5.55, 6.15, 6.30, 6.45, 7.00, 7.15, 7.30, 7.50, 8.10, 8.30, 8.50, 9.10, 9.30, 9.50, 10.10, 10.30, 10.50, 11.10, 11.30, 11.50, 12.10, 12.30, 12.50, 13.10, 13.30, 13.50, 14.10, 14.30, 14.50, 15.05, 15.20, 15.35, 15.50, 16.05, 16.20, 16.35, 16.50, 17.05, 17.25, 17.45, 18.05, 18.25, 18.40, 18.55, 19.15, 19.35, 19.55, 20.15, 20.35, 20.55, 21.15, 21.35, 22.05, 22.35, 23.00
Departure times bus route 67V at Weekends:
From 'Baross tér, Keleti pu.':

4.45, 5.15, 5.40, 6.00, 6.20, 6.40, 7.00, 7.20, 7.40, 8.00, 8.30, 9.00, 9.20, 9.40, 10.00, 10.20, 10.40, 11.00, 11.20, 11.40, 12.00, 12.20, 12.40, 13.00, 13.30, 14.00, 14.30, 15.00, 15.20, 15.40, 16.00, 16.20, 16.40, 17.00, 17.20, 17.40, 18.00, 18.20, 18.50, 19.20, 19.40, 20.00, 20.20, 20.40, 21.00, 21.20, 21.40, 22.00, 22.30, 23.00, 23.30

From 'Rákospalota, MÁV-telep':

4.20, 4.50, 5.15, 5.45, 6.15, 6.35, 6.55, 7.15, 7.35, 8.05, 8.35, 8.55, 9.15, 9.35, 9.55, 10.15, 10.35, 10.55, 11.15, 11.35, 11.55, 12.15, 12.35, 13.05, 13.35, 14.05, 14.35, 14.55, 15.15, 15.35, 15.55, 16.15, 16.35, 16.55, 17.15, 17.35, 17.55, 18.25, 18.55, 19.15, 19.35, 19.55, 20.15, 20.35, 20.55, 21.15, 21.35, 22.05, 22.35, 23.00

Tram schedules prior to suspension:

| | | | | |
| --- | --- | --- | --- | --- |
| | first tram | last tram | journey length | journey time |
| Rákospalota, MÁV-telep | 4.20 | 23.00 | 6,3 km | 22 perc |
| Baross tér, Keleti pu. | 4.45 | 23.30 | 6,4 km | 22 perc |

| | | | | |
| --- | --- | --- | --- | --- |
| | number of trams | type | round time | time between trams |
| rush hours | 7 | 2UV | 56 min | 8 min |
| daytime | 4 | 2UV | 56 min | 14 min |
| weekends | 4 | 2UV | 56 min | 14 min |
---